July 11, 2018 at 7:04 pm
#9822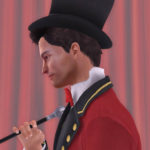 Phineas T. Barnum
Good day everyone!
New player here in Babbage…but I've finally found the RP community I've been seeking for years! Showbiz and eccentricity is my passion, the many museums and travelling carnivale has captivated my soul…perhaps one day I will move from Bridgeport and set up here but only time will tell!
Not easily spooked by the abnorm, only INTRIGUED!
No caution needed upon approach, I'm not going to steal your wallet…yet!