Lily Hassett
Rte. 23
Village of Nonesuch, Namhae
My dearest Lily,
How many times have I written those words? I am sorry to have not written them anytime recently, and would not blame you or anyone else for giving up on me. I've returned to New Babbage though, and find myself in a hotel full of notepads and pens. There are no excuses now.
When last I wrote you, I was in a mountain village in the Andes learning to spin yarn and weave blankets from the fur of animals called "all-packas," presumably because they bear the packs of the people that live there. My blankets were warm but not not ugly, and I am content to have learned a trade that will help me stay relevant during the next zombie apocalypse. I made one for Emerson that has his favorite colors–all of them.
Since leaving the mountains I have helped harvest tobacco, ridden on a catamaran, owned a slobbering dog, seen the aurora boring-alice, ridden a camel, and smuggl… imported rare and colorful birds to the Steamlands. As you might recall from a much earlier letter, I learned rather quickly that I'm not suited to sky piracy, no matter what my friend Captain Harriet said. (She was very courageous, true, but had, as they say, a good personality.) Also, it was with great surprise that I discovered the Great Blue Snapping Air Kraken is not actually in need of saving at all. In fact, they are quite put out by attempts to save them, so I have collected none. I have thus been forced to leave behind the exciting pursuit of eco-terror as well.
So here I am again, back in New Babbage. This is not a complaint. I am home, and it feels good to be home. Technically, however, I came back home to find that I do not have a home. Ruthorford House was demolished, I learned, and another structure erected in its place. I can only assume our dear Aunt Mumsy had something to do with this state of affairs, all the way from where she has been staying with you in the country. When you send her back here I will exact answers.
(Whom am I kidding? I will never know. She is about as transparent as the great gaping void astronomers say is at the center of our galaxy. Fanciful stuff. But when I read about these celestial phenomena, it is Mumsy that comes immediately to mind.)
Now that I am homeless in my homeland, I have been forced to engage a creative approach to obtaining shelter tonight. There just so happens to be a large, lovely hotel in the Academy district, with soft furniture, food-stuffed kitchens, a fully-stocked bar, and easily-picked locks. I even found writing materials in some of the empty rooms, as well as a plush bathrobe and slippers.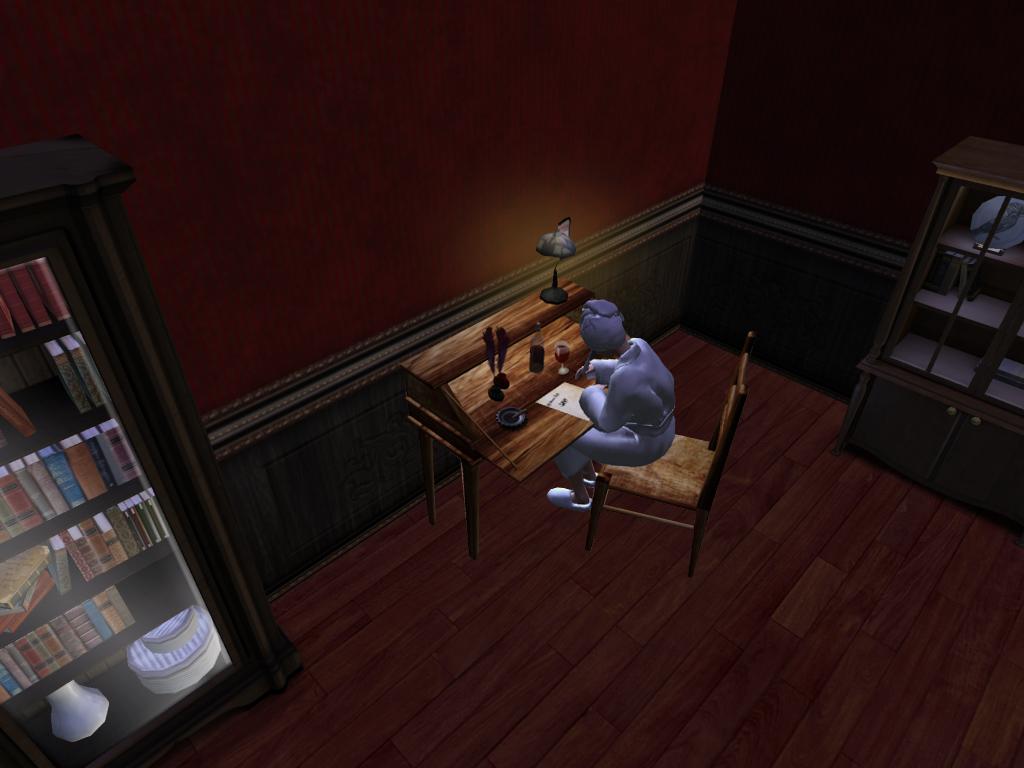 This city is always changing, and yet it is somehow always the same. I hope someday you will visit me here.
All of my love and gratitude for giving me a break from Mumsy,
Your sister,
— Juniper
P.S. – Tell your husband Chester that he might want to increase the amount of fat in his diet and learn to enjoy an occasional gin and tonic if he intends to live to an old age. I will enclose a healthy recipe.
P.P.S. – Give my love to the children and let them know Aunt Junie has invited them to visit her in the big city. Also, I hope the parrots I sent them made it there alive.