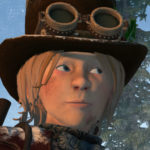 @lokieliot
active 5 months, 2 weeks ago
Next Tuesday will be the Pancake Race. (course to be announced) This year there is only one race time which will commence at 4pm SLT. Race is split into 3 races. First – Adults of Babbage Second – Urchins of Babbage Third – Adits and Urchins together All are welcome to join the fun, Flying pans will be supplied!
View
Events
My Events
No Events.
Events I'm Attending
Not attending any events yet.